IELTS Coaching in Chandigarh
Your Search For the Best IELTS Coaching Institute in Chandigarh Ends Right Here!
Generally speaking, IELTS refers to the International English Language Testing System. More than 10,000 educational institutions, numerous professional alliances, immigration authorities, and countless employers around the globe trust and approve of this English proficiency exam as the gold standard. The International Educators' Testing Program (IDP) administers this worldwide examination of the candidate's English language command. It measures performance in four areas: listening, reading, writing, and oral communication. If you want to learn or live in an English-speaking country, take this test. More than 3 million people from over 150 nations take the IELTS exam annually in pursuit of visas, work permits, and admission to the university. If you're looking for excellent IELTS coaching in Chandigarh, look no further than English Pro.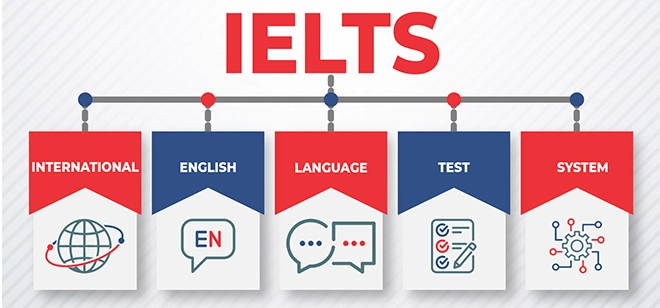 There are two versions of the IELTS exam: the Academic and the General Training. The first step for candidates taking IELTS is deciding which version of the exam they want.
Students in Chandigarh who hope to enroll in an overseas university can benefit from IELTS Academic preparation classes.
People who want to study or work abroad often opt to take the IELTS General Training in Chandigarh.
The primary difference between the two examination forms is in the scoring procedure. While the IELTS Listening, Speaking, and Writing sections are scored similarly across the two tests, the IELTS Reading section—responsible for 25% of your total score—is evaluated differences between the IELTS Academic and IELTS General Training tests.
We strive for excellence at English Pro's IELTS training in Chandigarh. Bands on the IELTS's Academic / General Training version need to be revised. It's also a great chance to work on their oral speaking abilities. Those with low vocal and nonverbal communication skills are given more attention. They are making the test participants' day a little brighter. English Pro's IELTS classes in Chandigarh are designed to help each student succeed. English Pro IELTS tutoring in Chandigarh eagerly anticipates challenging its students to improve their English skills. If you want to succeed on the IELTS, you need English Pro. 
10,000
We've prepared over 10,000 students and counting!
Do You Want to Obtain 8 Band Score in all IELTS Sections?
This mystical total can be reached by devoting exactly four hours to studying for the four sections (hearing (30 minutes), reading (30 minutes), writing (30 minutes), and speaking (30 minutes). (10 -15 min). If you enrol in English-Pro, our expert tutors will do everything they can to help you reach your IELTS goal score.  Practice tests, new study tools, engaging classes, and fun extracurriculars can help you prepare for the IELTS.
CBitss is considered the best IELTS institute in Chandigarh and I can say that is true! the location is really good because is in the city center so it is easy to go everywhere.
Do You Dream of Settling Abroad for a Bright Future?
IELTS Coaching in Chandigarh
1. IELTS Reading Test: The IELTS reading test consists of reading a text and answering questions about it for 60 minutes. The IELTS general exam consists of 13 question types, while the IELTS academic test has 14. Matching headings and features, finding information, short answer questions, diagram labeling, True False or not given, completing the summary, completing the notes, matching the endings of sentences, completing the table, answering yes/no/both, completing the sentence, and completing the flowchart are all examples of the types of questions that may be asked.
2. IELTS Listening Test: The IELTS Listening Module evaluates a candidate's ability to decipher the meaning of native-speaker discourse. In this section, you'll listen to the recording only once and then have 30 minutes to answer the accompanying 40 questions. You'll have 10 minutes to fill out the answer form. There will be four audio tracks performed here.
3. IELTS Writing Test: The 60-minute IELTS writing test is divided into two 30-minute sections. Two assignments await you below. The first task on the general exam and the academic test is different. The second task on both exams is the same. Coherence and cohesion, grammatical range and accuracy, linguistic resources, and vocabulary are the four criteria you will be graded on in the writing assignment. Our Chandigarh IELTS training schools will teach you how to write a high-band essay response. Examiners will obtain expert guidance.
4. IELTS Speaking Test: The IELTS speaking test will take place on a different day, with the examiner present. You will spend 12-15 minutes discussing various topics with the evaluator in person. The oral presentation is divided into three sections. In the speaking section, you'll be evaluated on four different aspects of your speech: your fluency and coherence, your lexical resource, your grammatical variety and accuracy, and your pronunciation. You can improve your speech with our help. Get the IELTS grades you need with our free mock exams and full-length practice tests.
Improve Your IELTS Score with English-Pro
Customized IELTS Coaching as per Your Needs!
| | | | | |
| --- | --- | --- | --- | --- |
| Current Level | 5 | 6 | 6.5 | 7 |
| Desired Score | 6 | 6.5 | 7 | 7.5+ |
Let's get you the Desired IELTS Score
Chandigarh offers complete IELTS training. English Pro leads IELTS preparation schools with excellent teaching and results. English Pro offers the best IELTS preparation in Chandigarh. As a top IELTS preparation service, we have helped hundreds of students achieve their band scores. Our training can create an unmatched learning atmosphere.
With only a few weeks to prepare for IELTS coaching in Chandigarh, English Pro has found that almost all non-native speaker test-takers can greatly improve their Reading, Writing, Listening, and Speaking with us. To ensure that you achieve a high mark on the IELTS, our classes in Chandigarh are taught by highly qualified instructors.
Students and professionals can get expert guidance from English Pro as they plan for standardised tests, select a career path, and study overseas. We have worked with thousands of pupils from southern India at various international universities. We've been Chandigarh's top IELTS coaching centre for six years due to our excellent student administration.
Key benefits
Expertly crafted and effective, these incorporate elaborated ideas using various methods.
Classrooms are comfortable, there's plenty of space, and there's air conditioning.
Success-oriented training led by experts who use strategic methods in each class plan.
Our small classes allow you to join whenever you want.
IELTS Test Component Duration Brief Description

| | | |
| --- | --- | --- |
| IELTS Test Component | Duration | Brief Description |
| Listening | 30 minutes | 4 sections, 40 items |
| Reading | 60 minutes | 3 sections, 40 items |
| Writing | 60 minutes | 2 tasks |
| Speaking | 11-14 minutes | 3 part one-on-one conversation |
IELTS Test Pattern 
Our test pattern is prepared in such a way that the students will be able to grasp the content easily. Listening and speaking module is the same for everyone whereas reading and writing module differ for the two modules. The duration of the test is 2 hours and 45 minutes, Reading writing and listening are completed in one sitting. Speaking test may be taken before the test or within 7 days or on the same day.
IELTS Scoring
The reported IELTS results are on a scale from 0 to 9. Though IELTS requirements vary by institution, most schools look for a score of 6 or higher. Each test taker receives a raw score for each section (listening, reading, writing, and speaking) and an overall score calculated by averaging the raw results. Learn how each band score relates to your degree of English proficiency.
A Test Report Form (TRF) will be mailed to you in addition to making your IELTS result viewable online. Free TRFs can be ordered and sent to five schools. All other requests for copies will incur additional costs. Before investing in a test preparation fund, find out what IELTS score is needed for entry to a top school. (TRF). You can obtain your IELTS score online or at your local test centre by listing five universities.
| | | |
| --- | --- | --- |
| Band Score | Level | Meaning |
| Band 9 | Expert user | Fully operational command of the language: appropriate, accurate and fluent with complete understanding |
| Band 8 | Very good user | Fully operational command of the language with only occasional unsystematic inaccuracies. |
| Band 7 | Good user | Operational command of the language, though with occasional inaccuracies and misunderstandings in some situations. Generally handles complex language well and understands detailed reasoning |
| Band 6 | Competent user | Generally effective command of the language despite some inaccuracies and misunderstandings. Can use and understand fairly complex language, particularly in familiar situations |
| Band 5 | Modest user | Partial command of the language, coping with overall meaning in most situations, though is likely to make many mistakes. Should be able to handle basic communication in own field |
| Band 4 | Limited user | Basic competence is limited to familiar situations. Has a frequent problem in understanding and expression. Is not able to use complex language. |
| Band 3 | Extremely limited user | Conveys and understands only general meaning in very familiar situations. Frequent breakdowns in communication occur. |
| Band 2 | Intermittent user | No real communication is possible except for the most basic information using isolated words or short formulae in familiar situations and to meet immediate needs. Has great difficulty in understanding spoken and written English |
| Band 1 | Non-user | Essentially has no ability to use the language beyond possibly a few isolated words. |
| Band 0 | Did not attempt test | No assessable information provided. |
There is no pass or fail. IELTS uses a 9-point of scoring system- the Overall Band Score (OBS) where total score varies from 1-9. Candidates receive their Test Report Form (TRF) within 13 days of the test date. IELTS scores are valid for 2 years.
This all makes we feel proud while revealing one of the top institutes for IELTS coaching in Chandigarh.
IELTS Important Date
There are 48 scheduled administrations of the IELTS test per year. Not all days are available at all test centres. Thursdays and Saturdays are exam days for listening, reading, and writing. However, the speech exam can be scheduled for either the same day or up to seven days in advance.
IELTS Result
An exam Report Form will provide IELTS scores 13 days after the paper-based exam and 5 days after the computer-based test. (Internet-Based). (Computer based). IELTS scores still need to be passed/failed. Band scales assess test takers. Each IELTS subject is scored 1–9. (Listening, Reading, Writing, and Speaking). Averaged sub scores determine the band number. All scores are in half-band increments.
English Pro
SCO 23-24-25, level 3, sector 34 A
Chandigarh,
Chandigarh
160022
Phone: 9988741983
IELTS coaching in Chandigarh
Rajneesh Singh
March 07, 2016
5/5 stars
IELTS Coaching in Chandigarh is provided by English-Pro.